Collected Crosswords from the Guardian and the Stories Behind Them
In this book, you'll find my first 50 puzzles from the Guardian, with an additional bonus puzzle first published in the online Genius slot.
This is much more than a puzzle book. I tell the story behind the development of each crossword: how I thought of the theme, the ideas that didn't made it into print and the unlikely coincidences that emerged afterwards.
You'll discover something of my working methods and the lively relationship between setter and editor, you'll have another chance to solve extra teaser clues and you'll hear from the solvers who took the time to comment on the puzzles when they were first published.
All the crosswords have been freshly typeset to make solving them an even greater joy, with full solutions and explanations for all the wordplay.
This is a unique book of crosswords

Hugh Stephenson

Guardian Crossword Editor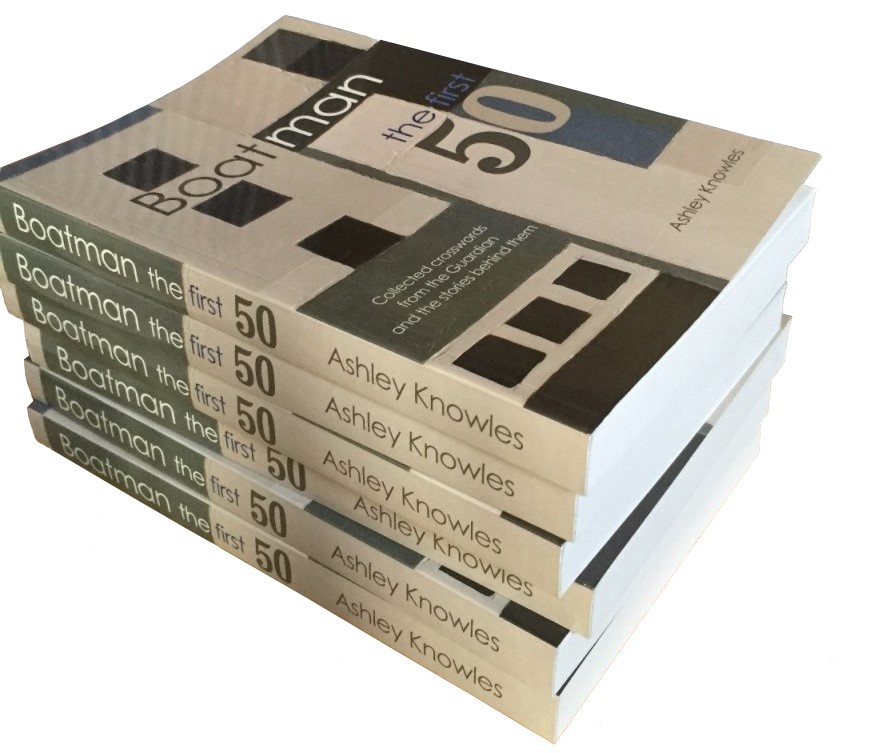 This is one to savour. Boatman's puzzles are witty and ingenious – and he never forgets that his job is to delight the solver. It is now an extraordinary pleasure to read how his unique mind works. The First 50 is a book I never knew I needed in my life. Gift it to yourself and to the word-lovers in yours.

Alan Connor

BBC2 question editor and Guardian crossword columnist
Here are two sample pages for you to download and enjoy:
If your favourite local bookshop doesn't stock The First 50, they can order it for you (give them a hint that they should order an extra couple for the shelves!) or you can buy direct from the distributor – ask for a personal airmail quote if you're ordering from outside the UK.
If you've loved the book and want to buy copies for your friends, you'll get a 25% discount if you order more than three.
To go to the distributor's website, click here.
Like a signed copy but can't come to a signing event? Click here to order one through my online shop – if you're outside the UK, send me a message first to check the postage.
For news and trade contact details, download the press release best suited to your needs: